Patrick McIlheran wrote this last week. The Brawler meant to get to it then but was busy with Halloween preparations with toddler Brawler and what not. But it stuck in the Brawler's mind. Here it is:
Most people on the left who oppose the Iraq war get around to citing how many people are dying. They say our leaders are morally culpable, since either our soldiers are killing people or because removing Saddam's repression allowed sectarian butchers to have their way. Yet many people on the left who support Doyle say that his embrace of embryo-destroying research over moral objections is an obvious utilitarian choice: Save humans by using up not-really-humans.

Yet against that, I would point out this: In Iraq, there is a plain right and wrong. Our side promotes elections and freedom; the other side is blowing up people for ethnic cleansing or to promote chaos. And while Peters suggests killing Muqtada al-Sadr and anyone who takes up arms for him, that contains the non-fatal option — Muqtada can always forswear violence himself, side with liberty or go into exile. His armed followers can lay down their arms and no longer face death from our soldiers. Human embryos in a lab, however, are going to be killed in embryo-destructive research, at least as it currently goes, because they are human. They are both innocent and inevitably doomed.
For the record, McIlheran is impossibly over his head any time he sets his fingers on the keyboard and types the word "Iraq." For instance, if he thinks that taking out Muqtada al-Sadr would help the situation in Iraq, well, he's welcome to think that. I think the majority of the Iraqi people would violently -- and I use the word intentionally -- disagree with that sentiment. But the Brawler will return to that later.
What really stuck with the Brawler was his equivalency of soldiers and human embryos -- at this point groups of 50-150 cells, a blastocyst -- in a lab.
Here's a picture of a blastocyst: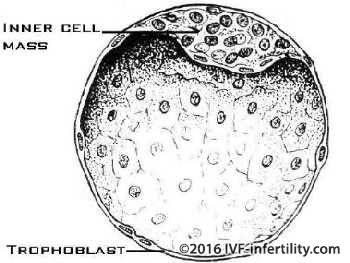 Here's a picture of Luke Zimmeran, a 24-year-old Marine from Green Bay who was recently killed in Iraq:
Here's pictures of families mourning loved ones slain in Iraq:
(h/t www.stevegilliard.blogspot.com for the pictures)
And here's a picture of one of the hundreds of thousands Iraqis who have been killed since the US invasion and its failed occupation have turned that country into an abattoir. This is a boy in Fallujah:
McIlheran has been an enthusiastic supporter of this war from the get-go and his ardor has not relented. He constantly looks for signs, no matter how feeble, that we were right to go in. He constantly sees lights at the end of whatever tunnel we're in. Jesus, he even approvingly cites an author who writes that the Iraqis are grateful we're there. He, in short, has refused to admit that he and his president were wrong. And he can't bring himself to admit that his president may have deliberately led the country into war.
McIlheran can cotton tens of thousands killed for ... well, that's not entirely clear.
But when it comes to standing up for blastocysts that are going to be destroyed anyway...well, McIlheran is firmly opposed to that.
It's scary this is the best conservative columnist the Journal Sentinel could find.